TESTIMONIAL:

"When you first start, you think... 'Ok, maybe I will make some extra money". I never really thought that SBI! would help me "Live my life like I mean to live it'."
-- Luisa Cupeles, viequestravelguide.com
Site Build It! Free Ebooks...
Or, Free Ken Evoy Products that Can Genuinely
Help You Succeed with Your Website or Business, Today
These ebooks, written or co-written by Dr Ken Evoy, have been downloaded and read hundreds of thousands of times over the years.
And it's easy to see why.
Each ebook provides invaluable information on a specific aspect of internet marketing, all for free. Whether it's copywriting, or affiliate marketing, or service selling or...
Yes, all the Ken Evoy ebooks make constant mention of Sitesell's Sitebuildit site building service throughout - using it is a great way of putting what you learn into practice - but all of the information can be put to excellent use independently of SBI!.
NOTE: I've read all of the ebooks, some of them several times, and in my opinion I believe Make Your Content PREsell is the most important free ebook listed below. But then I build content-based websites - your requirements may differ.
Why People Fail...
Why People Fail
-- "14 success-killing traits that people have and don't recognise"
This is another free ebook written by Ken Evoy. All based on his experiences of why some succeed (whilst others fail) using SBI!.
And the reasons for failure are many - Ken identifies 12 types who fail despite really wanting to succeed (including The Blame Caster, The Cynic, The Quitter, The RTFMer and The Smarter-than-Thou).
Why People Fail applies to anyone who tries to succeed online, tries to make any system work - not just about using SBI!.

Will you recognise yourself I wonder? ;-) Download Why People Fail here*
'Make Your ___ Sell' Ebooks...
Make Your Knowledge Sell


CO-written by Monique Harris and Ken Evoy, this shows you how to turn your experiences and passion into a profitable e-book Now free!
More YouTube videos from SiteSell here
Make Your Content PREsell



MYCPS! sums up the philosophy behind Site Build It! brilliantly AND you can apply this great creating content advice for any website... FREE!

Now completely updated, including a special section on social media.
Make Your Words Sell
-- "How to write great website copy
for a sales-based website"


This was the very first ebook I ever bought online. It teaches you how to write internet copy that grabs attention and gets the sale.

And now, after 8 years on sale at $29.95, it's free!
Masters Courses...
Ken Evoy first coined the 'Masters Courses' expression
several years ago. These ebooks have always been
free, but they've always been highly useful, too, and
are regularly updated. PDF files are zipped...
Affiliate Masters Course
-- "How to make money with affiliate marketing"

Shows you how to become a high-earning super-affiliate (whatever product/service you promote).
Service Sellers Masters Course
-- "How to sell your service online"

Attract new clients from around the world...


Or from around the corner.
Webmaster BUSINESS Masters Course

How to run the BUSINESS of WebMastering...

Net Auction Masters Course
-- "How to do Ebay"



Start and grow a profitable Net auction business. NOTE: Now upgraded to full version of Make Your Net Auction Sell...
Free Ebooks - What Next?
As I said above these site build it ebooks satisfy 2 purposes, and they do so very well:
The free sbi ebooks provide outstanding information about a specific aspect of marketing online - and they do it for free. These resources WILL help you succeed online IF you follow what they say


The ebooks help PREsell SiteSell's Internet-business building software services called Site Build it! (SBI!). And that is because SBI! was developed from the beginning with the advice given in the ebooks.


So, what next? Well, nothing next... Unless, unless you're just a little curious about SBI! and then, if you are, I encourage you read my review of SBI!...
Thanks.
Steve M Nash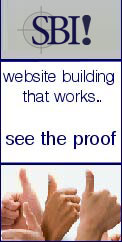 or

Click to Order and Try SBI Today Risk-Free!
(Includes Yearly And
Monthly Payment Options)
---
NOTE: (1)
My own Site Build It! example site is SelfHelpCollective.com - a now-established and popular guru-free self-help site! And you can see how I came to build my own SBI! (starting in Feb 2008) in my Site Build It! Diary (see below).
or

Click to Order and Try SBI Today Risk-Free!
(Includes Yearly And
Monthly Payment Options)